ARMY AND NAVY
Major Hyacinth Lynch
Gravestone Inscription
Major Hyacinth Lynch
Died 6th July 1947 in his 89th year.
Major 2nd and 66th Battalions Royal Berkshire Regiment.
Last survivor of the Battle of Miawand, Kandahar 1880."
A family story states that in his old age Hyacinth started to suffer from dementia and whilst living at his home in Pont Street, London. His housekeeper stole all his money and belongings. His sister was horrified to find him lying under a bundle of rags in the cellar when she visited and removed him to a Rest Home where he spent the last of his days.

The Regiment was serving in India during the 1870s when it was ordered to Afghanistan. In July 1880 on the arid plain of Maiwand, 45 miles from Kandahar, the Regiment earned undying glory. The Regiment was part of a mixed Indian and British force under Brigadier General Burroughs and was given the task of dispersing a reportedly small band of rebellious Afghan tribesmen under Ayub Khan. In the event the rebels proved to be a massive army over 40,000 strong supported by 30 guns.

After several hours desperate fighting only the remnants of them stood firm. Slowly and deliberately, contesting every foot of ground the hundred and twenty survivors under Colonel Galbraith withdrew to a walled garden. Here they fought on until only two officers and nine other ranks were left. This small group charged out of the garden, formed up back to back and continued to fire.

The action caught the prevailing mood of nationalism which was prevalent in Victorian England at the time and inspired a poem to be written. A small white mongrel dog named "Bobbie", who was the pet of a Sergeant in the Regiment, was wounded in the battle but survived and was eventually brought back to England where he was presented to Queen Victoria at Osborne House on the Isle of Wight.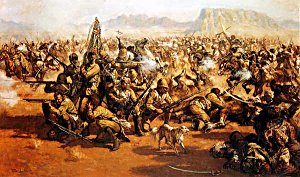 Massacre of the 66th Battalion
The action also inspired Sir Arthur Conan Doyle to base his character, Doctor Watson, on the Regiment's Medical Officer, Surgeon Major A F Preston, who was also wounded at the battle and who describes in "A Study in Scarlet" how he was shot while attending to a fallen soldier.